AskBio Vice President and Neurobiology Sector Lead Nathalie Cartier Honored with Ann B. Moser Award 
Research Triangle Park, N.C.– November 17, 2022 – Asklepios BioPharmaceutical, Inc. (AskBio), a wholly-owned and independently-operated subsidiary of Bayer AG, today announced that Nathalie Cartier, MD, AskBio's Vice President, Sector Lead for Neurobiology, was recently honored with the Ann B. Moser Award by ALD Connect. The award recognizes unusually impactful contributions to the adrenoleukodystrophy (ALD) community at large and major milestones in the history of the disease.
"Dr. Cartier's work has far-reaching impact for advancing ALD treatments," said Dr. Florian Eichler President of ALD Connect. "Her accomplishments, as a researcher working to develop groundbreaking and life-extending treatments for diseases such as ALD, reflect the spirit of Ann Moser's work over many decades to advance leukodystrophy research and advocacy."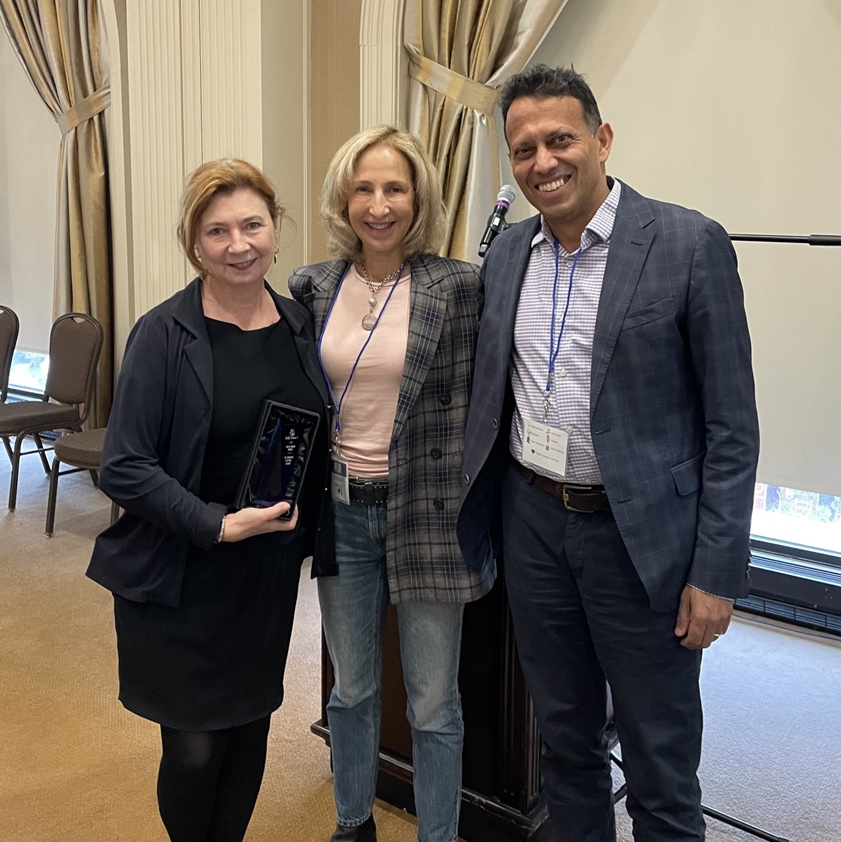 ALD Connect was founded in January 2013 by a dedicated group of clinicians, scientists, patients and patient advocates focused on improving the quality of life for those living with ALD through advocacy, education, research and support. This award was established in recognition of Ann B. Moser's dedication to leukodystrophy research, education and newborn screening advocacy. Dr. Cartier was presented the award for her pioneering work on hematopoietic cell gene therapy for ALD that led to marker authorization in Europe and more recently in the United States.
"ALD is a devastating disease that affects children, particularly boys ages 4 to 10. Knowing my work may have contributed to a better life for these young people is humbling," stated Dr. Cartier. "I want to thank those at ALD Connect for this meaningful recognition."
About AskBio
Asklepios BioPharmaceutical, Inc. (AskBio), a wholly owned and independently operated subsidiary of Bayer AG acquired in 2020, is a fully integrated gene therapy company dedicated to developing life-saving medicines and changing lives. The company maintains a portfolio of clinical programs across a range of neuromuscular, central nervous system, cardiovascular and metabolic disease indications with a clinical-stage pipeline that includes therapeutics for Pompe disease, Parkinson's disease, and congestive heart failure. AskBio's gene therapy platform includes Pro10™, an industry-leading proprietary cell line manufacturing process, and an extensive capsid and promoter library. With global headquarters in Research Triangle Park, North Carolina, and European headquarters in Edinburgh, UK, the company has generated hundreds of proprietary capsids and promoters, several of which have entered clinical testing. Founded in 2001 and an early innovator in the gene therapy field, the company holds more than 750 patents in areas such as AAV production and chimeric and self-complementary capsids. Learn more at www.askbio.com or follow us on LinkedIn.
Media Contact:
Phil McNamara
Vice President, Corporate Communications, AskBio
E: pmcnamara@askbio.com
T: +1 984.389.1797